Award Win
We're delighted to have won the Community Energy Photo Award with our photo of children from Irlam Primary School and Fiddlers Lane Primary School.  It was taken by Bill McLaughlin at the event we organised to celebrate the installation of our solar arrays on their school roofs.  Also pictured are GMCR volunteers, members, our installer, the Mayor of Salford, and one of our directors, Ali, in a fetching sunshine costume.
Community energy relies on people coming together with a shared goal of helping the environment and the community. This image from our Irlam event captures all the different groups who contribute perfectly.
Thank you very much to everyone who voted for us!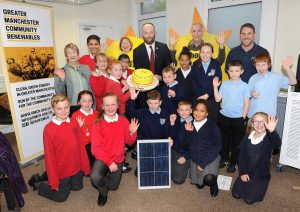 2019 installations
The last installation funded by our 2019 share offer took place during half term at Chesham Primary School in Bury.  We're pleased to be expanding to other boroughs of Greater Manchester and will let you know once we have permission to switch it on!
The panels installed at Monton Green and Springwood Primary Schools in Salford earlier this year have started generating and we hope to get confirmation of the Feed-in Tariff registrations soon.
Volunteering
If you'd like to volunteer for GMCR, we're having a volunteers meeting on Monday 18 November, at 6.30pm at the Green Fish Resource Centre, 46-50 Oldham Street, Manchester, M4 1LE.  All welcome!
Thanks for your support!