Award Nomination
In exciting news, GMCR has been shortlisted for the Community Energy photo award!
Our photo shows children from Irlam Primary School and Fiddlers Lane Primary School at the event we organised to celebrate the installation of our solar arrays on their school roofs. Also pictured are GMCR volunteers, members, our installer, the Mayor of Salford, and one of our directors in a fetching sunshine costume.
Community energy relies on people coming together with a shared goal of helping the environment and the community. This image from our Irlam event captures all the different groups who contribute perfectly.
You can vote for us here
Like and retweet this tweet
Voting closes Friday 11 October, 5pm.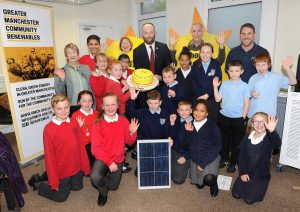 2019 installations
We were delighted to raise £100,000 this summer to fund the installation of solar panels at three primary schools.
Panels were installed at Springwood Primary School and Monton Green Primary School (shown below) in the early part of the summer holidays. We've sent in the Feed-in Tariff applications for both installations, but we haven't received permission to switch them on yet. We're expecting to begin the installation at the third school, Chesham Primary School, soon.
Community Fund update
At our recent AGM, members of GMCR agreed to approve the payment of community grants totalling £4,000 in support of carbon reduction, energy efficiency and environmental education projects. We'll be engaging with our first four sites to discuss this soon.
Community Engagement
We've been out promoting GMCR at various events including the Manchester Climate Youth Conference, the Manchester Climate Change Agency AGM and the Manchester Climate Strike.