Great news – we have passed the half way mark to our minimum target!
Including offline investments, we've raised over £80,000 – a massive thank you to all of you who have invested so far!
With less than a week left, it's time to remind everyone who's been thinking about investing in our project to help schools, the environment and the local community, to do so right away.
So please take a look at the Share Offer if you haven't already, and ask three friends to do the same. We have put some suggested wording you can use at the end of this update. And of course, please keep sharing our Crowdfunder page on social media.
Our programme of publicity is continuing right up to the 30 June deadline. Yesterday we gave a presentation at a Nuclear Free Local Authorities event, and today we were pleased to be promoting our project at the Rixton with Glazebrook Carnival, just down the road from two of our schools in Irlam.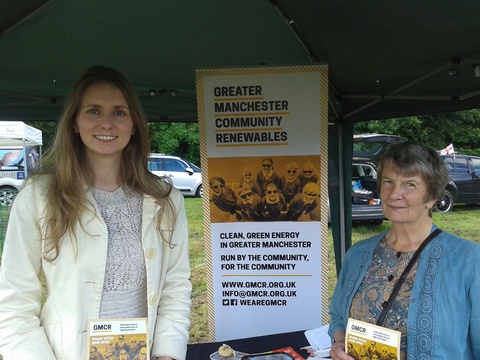 Upcoming events
Tomorrow, we'll be at Altrincham Market from 11am to talk to shoppers about installing panels at The Fuse, a great community facility in nearby Partington.
And don't forget to book for our community energy meet-up, which starts at 6.30pm on Tuesday 28 June at the Castle Hotel on Oldham Street in Manchester city centre.
Thanks for your support, and we hope to see some of you on Tuesday!
Example email to send to your friends
Have you heard about GMCR's solar project?
Greater Manchester Community Renewables and Moss Community Energy have joined forces to fund the installation of solar panels at 3 primary schools – Primrose Hill in Ordsall, Irlam Primary & Fiddlers Lane in Irlam – and The Fuse, a community building in Partington.
This will save them money, reduce carbon emissions and inspire children (and grown-ups!) to learn about energy and climate change – and surpluses will go into a Community Fund to support eco-friendly projects in the local area.
GMCR is raising the money to fund the project via a community share offer. Individuals and businesses can invest between £100 and £20,000, and investors will receive share interest of up to 5% per year, depending on the performance of the Society.
The share offer is due to close on Thursday 30 June, so please visit GMCR's Crowdfunder page at http://www.crowdfunder.co.uk/gmcr as soon as you can and help all four sites get their solar panels.