Update on 2019 installations
Our solar arrays at Monton Green, Springwood and Chesham primary schools were successfully registered for the Feed-in Tariff by the end of March 2020 deadline. All the sites are now generating electricity. However, export metering at Chesham and Springwood is not yet in place due to delays getting the existing meters reconfigured for export.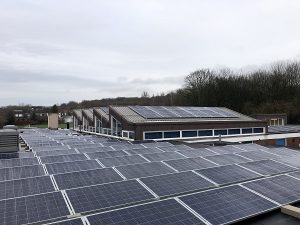 Our installation at Chesham Primary School, Bury
Broader solar performance
Our total solar generation to date is 568MWh*, enough to make over 31 million cups of tea! This translates into 156 tonnes CO2 saved.
During lockdown, a lower proportion of the electricity generated has been used onsite than we would normally expect as some of our sites were closed, and others were open for keyworkers' children only. We normally expect to see 75% used onsite – between March and July, this fell to around 50%, but it's likely to return to normal as our sites reopen.
GMCR Energy Savers
In our last newsletter we shared the exciting news that we've been awarded grant funding to support our site partners and their local communities to save energy and reduce carbon.
Following a short tender process, we've selected Groundwork to deliver the community engagement work. Each of our sites will be offered a fully funded programme of activities tailored to their needs, all of which will be carefully managed to comply with social distancing and any lockdown restrictions in place at that time.
Activities in schools and at local community venues could include assemblies, workshops and information packs, energy saving pledges, energy quizzes and games such as energy bingo. We're also hoping to provide a limited number of home visits, with telephone support available for those who are struggling with their energy costs.
In addition, Groundwork will provide training sessions to GMCR volunteers about energy saving and to increase awareness of how vulnerable people can be supported.
We'll also be offering each site a free energy assessment so they can consider how to reduce the energy demand of their building.
Plans for the future
At our strategy meeting earlier in the year, we agreed that, even though the Feed-in Tariff scheme had closed to new entrants, carefully selected new solar projects will just about break even. We are keeping this under close review, particularly in light of recent changes to electricity price projections.
Along with many solar installers and funders, we've responded to a request for information from Greater Manchester Combined Authority, who are interested in having solar panels installed on 76 sites across the city region. We set out how much money they could save as well as details of our experience and social and environmental credentials. Fingers crossed this will result in some new sites for GMCR!
Finally, special thanks to our volunteers who have continued to support us through the pandemic.
*Total generation since the project started based on June 2020 meter readings