Just a quick update for you all on progress so far this year…

Operations

As you may recall, our three school sites were all switched on and our solar arrays were generating last year, but additional work was required to upgrade the substation at The Fuse before we could switch on that installation.  After a long delay at Electricity North West (ENW), we escalated the issue and the work was finally completed and the installation switched on in February.
Solar Performance
We were delighted to receive our first Feed-in Tariff (FiT) payments last month for the solar electricity we generated in 2016 – it was great to get confirmation that our FiT accounts had been set up properly and to see some income coming into our bank account!
Generation meter readings taken towards the end of March showed total generation to date of 19,976 kWh – so even in the dark and gloomy winter months and with our largest array at The Fuse only coming online in February, our panels have still already generated enough electricity to power 5 average homes for a year and save over 8 tonnes of CO2!
Engagement
Since our opening event in Irlam, we've given a couple more talks; at Bury Green Party and at Manchester Friends of the Earth for their Valentine's Day "Show the Love" meeting, where we were all showing our love for renewables (see photo below).  We also had a stall at the Darwin Day event organised by the Greater Manchester Humanists, where we met Paul and Eva (a.k.a. Polyp and Schlunke), the author-illustrators of children's book, Little Worm's Big Question.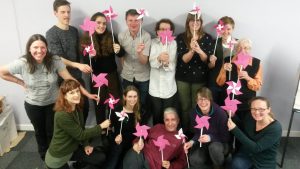 We've also helped with a couple of research projects, including a cross European community energy programme, and attended the latest Electricity North West Sustainability Advisory Panel, at which we heard about the latest challenges for the grid due to the greater demands placed on it by both renewable energy generation and increased electricity use, e.g. electric vehicles.