We hope that this news cheers you up in these difficult times.
First Community Fund Award
We were pleased to hand over a cheque for £1,000 to Fiddlers Lane Primary School. The school plans to spend the grant on recycling facilities and on cameras so the children can see what's happening in the bird boxes. Read our press release here.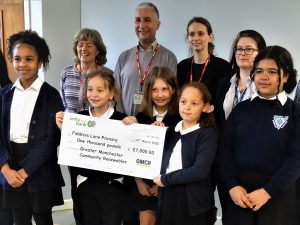 Funding for Energy Advice
We're delighted to share the news that we've been awarded grant funding to provide energy efficiency information to members of the community around our sites, encouraging them to save energy and reduce carbon for two years!  Part of the funding will be available to support our site partners identify energy efficiency savings if they wish to do so.
We are seeking a specialist to deliver this project.  You can find the project brief on our website.  Please share it with anyone who might be interested.
Strategy day
As you may be aware, the Feed-in Tariff has closed to new entrants. We were only able to submit applications for our 2019 sites because we had pre-registered them last March. We held a strategy day in January to look at the opportunities for GMCR without the FiT. We concluded that carefully selected new projects will just about break even and so decided that we would continue to look for new solar projects to develop.
Update on 2019 installations
We continue to follow up the Feed-in Tariff applications for our three 2019 installations at Monton Green, Springwood and Chesham Primary Schools in Autumn 2019, which have been delayed by an IT issue at OFGEM.  In the meantime, Monton Green and Springwood have both been generating and the delay is not causing us a cash flow issue. Export metering at Chesham and Springwood is also being finalised.
Broader solar performance
The addition of the Monton Green and Springwood arrays means that our total solar generation is 417MWh*, enough to make over 22 million cups of tea!  This translates into 121 tonnes CO2 saved.
*Total generation since the project started based on December meter readings