Greater Manchester Community Renewables (GMCR) has launched a share offer to raise £186,000 to put solar panels on schools and community buildings across Greater Manchester.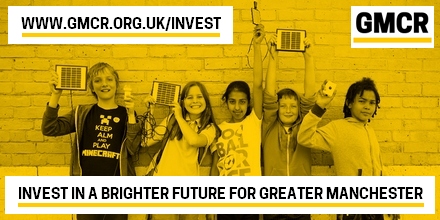 GMCR, a community group established in January 2015, plans to install solar panels on Irlam Primary School, Primrose Hill Primary School in Ordsall and The Fuse, a community building in Partington. They will also help Moss Community Energy [2] install panels at Fiddlers Lane Primary School in Irlam.
The sites will benefit from lower electricity bills and a lower carbon footprint as a result of the clean electricity being generated from their rooftops, and surpluses will go into a Community Fund to support eco-friendly projects in the local area. [3]
The installations will be funded from a community share issue, where members of the public can invest in shares in GMCR to own a stake in the project. People who buy shares will become members of GMCR and receive interest of up to 5% per annum on their investment.
Ali Abbas, Director of GMCR, said:
"We are delighted to launch our first share offer to give people across Greater Manchester the chance to invest in a project that will not only provide a financial return, but will also make a real difference to local communities and the environment."
Elaine Darwin, Headteacher at Irlam Primary School, said:
"We're really excited to be part of this project.  The solar panels will not only save us money on our energy bills, they will also be a great resource to help children and grown-ups learn about where our energy comes from and what it means for the environment."
Cllr Derek Antrobus, Assistant Mayor for Planning at Salford City Council, said:
"We welcome this community-led project, which is giving people who live or work in Salford the opportunity to invest in locally produced clean energy, helping our schools save money and supporting action to reduce our impact on climate change."
Roger Lightup, Salford resident and former Mayor of the City, said:
"I have invested in Greater Manchester Community Renewables because it's a great opportunity to generate a long term income stream for further eco-friendly projects in Irlam and Ordsall."
GMCR's share offer is open until 30 June 2016, with a minimum investment of £100 and a maximum of £20,000. Those interested in investing should read the Share Offer fully and take appropriate financial advice.
ENDS
Notes to the editor
Greater Manchester Community Renewables Ltd is a community benefit society, registered number 7066. GMCR received a grant from the Urban Community Energy Fund, provided by The Department of Energy and Climate Change
Moss Community Energy Ltd is a community benefit society, registered number 7174.
It is projected that the sites will collectively save just under £50,000 on their energy bills, and a community fund of over £60,000 will be generated over the life of the project.