Children and staff at Fiddlers Lane Primary School are now the proud owners of a solar-powered stopwatch, having received grant funding from Greater Manchester Community Renewables (GMCR).
Ann McQuirk, Business Manager at Fiddlers Lane Primary School said:
"The solar-powered stop watch has been well received by children and teachers alike – we think it's wonderful! The children use it every day going around the track to time themselves. The solar-powered stopwatch is an ongoing partnership with GMCR who have once again supported our school by funding these environmental projects which otherwise would not have happened."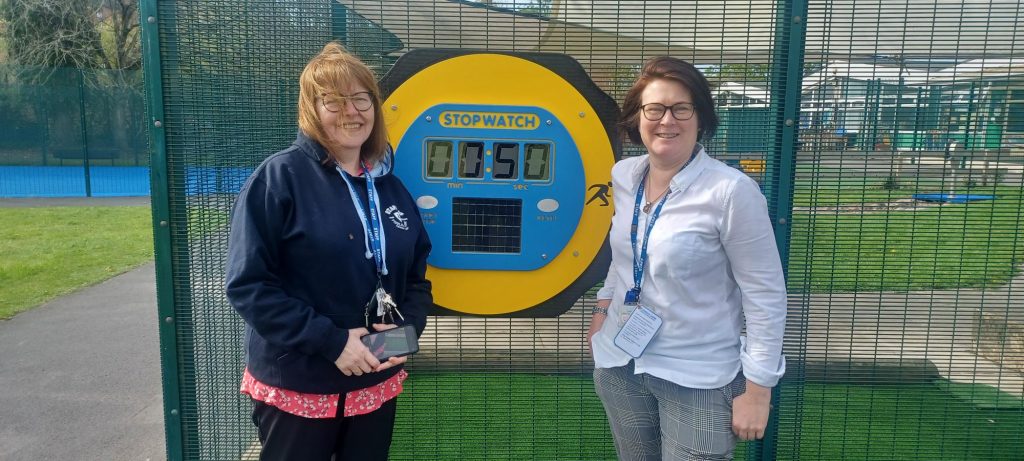 The school was previously awarded funding from GMCR in 2020 for an in-school recycling scheme and cameras for the bird boxes.
Ian Whitehouse, Site Manager at the school said:
"We spent our first grant from GMCR on recycling facilities and two camera bird boxes; one to replace the broken one for the Nursery and another for the older children to see."
The school had community-owned solar panels installed by GMCR back in 2016. Since then, the panels have generated 140,000 kWh – that's enough green electricity to charge over 14 million smartphones. Having solar panels means the school has also saved thousands of pounds on their energy bills, as well as showing the children real life solutions to the climate crisis.
Kate Eldridge, Director of GMCR, said:
"We're delighted to be able to make a further award from our Community Fund to Fiddlers Lane Primary School. The school has embraced all aspects of sustainability from looking at the efficiency of their building to engaging the pupils in environmental issues. It's really inspiring and we are happy to support them where we can."
GMCR is a community energy scheme, run entirely by volunteers and owned by members of the community. Their community fund comprises GMCR's profits and donations from GMCR members. GMCR's Community Fund is open to applications for carbon reduction and environmental education projects in the local area.
GMCR is also offering energy saving advice to anyone in the local community who is looking to save some money on their energy bills and reduce their carbon footprint. They've teamed up with Groundwork, a charity providing free support, which ranges from advice on reducing your energy use, advice on damp, mould and condensation, and help to access any grants you may be entitled to. You can contact the Groundwork Green Doctors free on 0800 090 3638.
ENDS
Notes to the editor
1. Photo attached of the Fiddlers Lane solar powered stop watch, featuring the Headteacher Sarah Cooper (right) and the School Business Manager Ann McQuirk (left).
2. Greater Manchester Community Renewables Limited (GMCR) is a community benefit society, set up and run by volunteers to install community-owned renewable energy across Greater Manchester. It has 9 solar arrays, totalling c. 350 kWp capacity.
3. The generation meter reading taken at Fiddlers Lane Primary School on 13 June 2022 was 143,549kWh. This equates to saving c. 35 tonnes CO2 since the panels were installed by displacing electricity drawn from the grid.
4. 14 million smartphones charged is calculated based on 143,549kWh electricity generated by GMCR at Fiddlers Lane to date, a phone with a 2000mAh battery and 5V charger using 0.01kwh for a full charge.
5. Fiddlers Lane Primary School receive a discount on the electricity they receive from the GMCR solar panels compared to the price charged by their main supplier. Since the panels were installed they have saved £3,995.
6. Groundwork is a federation of charities mobilising practical community action on poverty and the environment across the UK. They're passionate about creating a future where every neighbourhood is vibrant and green, every community is strong and able to shape its own destiny and no-one is held back by their background or circumstances.
All Greater Manchester residents can call the Groundwork Energyworks team free on 0800 090 3638 for energy saving advice and support.
7. The GMCR Energy Savers project is funded by Electricity North West's Powering our Communities fund and delivered by Groundwork.