We have lots to update you on since our last newsletter. While our community-owned solar panels have not been at their most productive during the Winter, our volunteers have been busy!
Preparing a new share offer
As you may know, our engagement with potential new site partners paused during the pandemic as schools were incredibly busy with managing the day to day impacts of Covid.

However, since then, the sharp increase in electricity prices has prompted a number of schools to contact GMCR to explore how we could support them to reduce their energy bills and carbon footprint with solar panels. Conversations have been held with numerous educational and community centres. We've also built a positive dialogue with a Solar for GM Faiths project, who we hope to work with in the coming years.

In the meantime, one large secondary school has agreed in principle to partner with us now and so we are preparing for a new share offer this summer. This is a particularly exciting project because:
Installing the maximum number of panels at this site will more than double our solar capacity; and
Raising the funds for this will result in our biggest share offer ever – almost the same as our first three share offers combined!
Please let us know if you'd be interested in investing in our new share offer by completing our 2023 pre-share offer survey.

Solar performance of existing sites
In the period January to March 2023, our nine solar arrays generated 36,272 kWh of electricity, enough to make 2 million cups of tea and save over 8 tonnes of carbon emissions.

Our site partners used 31,797 kWh (88% of generation) and collectively saved £6,155 on their electricity bills this quarter.

GMCR Energy Savers
In the Winter months, our partner in the GMCR Energy Savers project, the Groundwork Green Doctors, have been supporting households in Salford and Trafford with energy saving advice.  We also have some funding from Electricity North West for energy audits at our sites to enable them to understand their energy use and ways to save energy.  We have now selected a partner for this work and will be offering the audits to our site partners shortly.

Warm Homes campaign
GMCR is supporting Friends of the Earth's United for Warm Homes campaign.  The campaign is calling for a nationwide retrofit programme, a shift from fossil fuels to renewables, and urgent financial support for people struggling with their energy bills.  

If you'd like to show your support for the campaign, you can sign a petition here.  If your community group / church / business would like to show support for the campaign, please contact Kate on info@gmcr.org.uk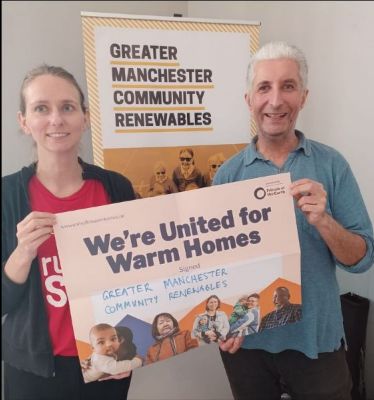 Spreading the word
We continue to spread the word about our project.  Since we last wrote to you we attended the Stockport Fair Trade Fair and spoke to the Business Green Scene group at the Greater Manchester Chamber of Commerce and Bury Climate Action about our project.  

We would be most grateful if you could help us promote our new share offer by asking friends and family to subscribe to our newsletter or to follow us on Facebook or Twitter.

Thank you for your support!