It's Summer Solstice and Co-operatives Fortnight, so what better time than to invest in a community-owned solar project aiming to:
install solar panels on 3 schools and a community hub, saving them money on their bills;
generate over 100,000 kWh of clean electricity per year, helping to reduce carbon emissions;
create an income stream in the form of a Community Fund for future eco-friendly projects;
provide you with a projected return of up to 5% each year.
We've been busy promoting the project at various events, including the Makers Market in Spinningfields and Manchester Museum's Climate Control exhibition, where we met this fellow…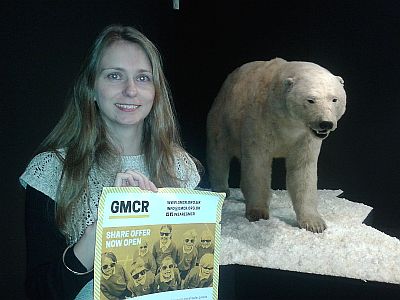 Upcoming events
Next weekend, we'll be at the Rixton with Glazebrook Carnival in Hollins Green from 11am on Saturday 25 June. Let us know if you'd like to come along and help out.
We've also organised a community energy meet-up on Tuesday 28 June at the Castle Hotel, Oldham Street in the Northern Quarter in Manchester city centre, from 6.30pm. All welcome!
10 days to go!
We're pleased to have reached over £66,000 (including offline subscriptions), which is almost half way to our Minimum target.
Thanks so much to everyone who has supported us – from those who have invested, to those who have shared our story with friends and contacts.
Please do keep spreading the word, and consider investing if you can!