It's been a busy week! We've been to 8 events spreading the word about our project to install solar panels at Wellington School since our update last Monday.
We're proud of GMCR and love telling people about the benefits solar panels will bring to Wellington School and the environment. We also love to quote achievements from our existing sites, such as how many cups of tea we could have made with the energy generated so far (70 million!) and how much our partners have saved on their bills (£70,000). And while we hope people will invest to help the community, mentioning the 5% share interest and capital repayment over 10 years emphasises that we're seeking investment rather than donations.
Highlights of our week included meeting the Wellington School eco-committee, and the photo from that day was published in the Manchester Evening News and in Altrincham Today.  Ali was on BBC Radio Manchester (from 22 minutes), Kate was on That's Manchester TV, and we've been to the school open day (pictured below) and to Timperley Sports Club.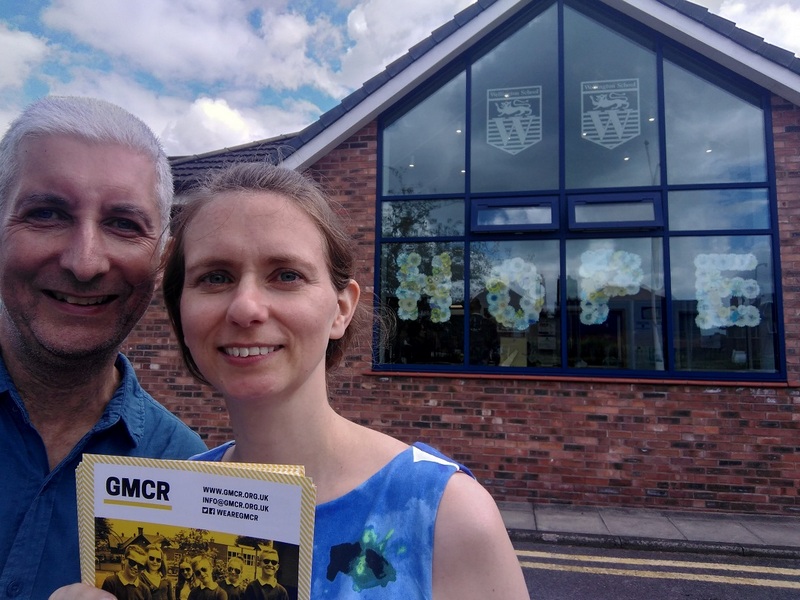 We've raised £115,700 so far, so close to our Minimum target of £120,000!  Can you help us get there? Find out how on our Invest page.
If we do make our minimum target, we won't be stopping there. If we can make it to £175,000, we'll be able to cover two out of the three roof areas at the school which are suitable for solar panels. So that's the next milestone on our way to the big target of £350,000.
Next weekend you'll find us at Altrincham Festival. If anyone wants to come along and help out at our stall, you'd be most welcome as we'll be there on both Saturday and Sunday from 11am to around 4pm. Please contact us on info@gmcr.org.uk if you can join us.